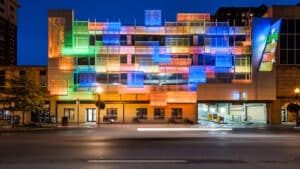 When it comes to architectural design, PRP Architects is one of the most recognized design firms in the region.  With offices in Lexington, Kentucky, our reputation has been built on performance, trust and creativity.  We love what we do and are constantly looking for new sources of inspiration.
Our team brings expertise from architecture, design and technology. PRP Architects offers a deep understanding of architectural design. Our projects are extremely diverse in terms of type and scale.  PRP embraces this diversity as one of our core strengths and we have structured our firm to address the specific needs of each client.
Architectural design at PRP Architects starts with a conceptual design to understand what is possible. From there, preliminary designs are created and refined. With each pass the design becomes more and more detailed. Once approved, we create permit-ready construction drawings, complete with a framing plan, exterior elevations, structural engineering specifications, and a lighting plan.
At PRP Architects, we design for the future, evolving and organically growing through strategic relationships with our clients.  By influencing design on a regional level, we seek to enhance communities and to elevate human experiences.  Since we were founded by Clive and Graham Pohl with architect Krisia Rosa, PRP has carved out a reputation as a reliable and collaborative partner, articulating a progressive design and development vision and forging strong and lasting relationships across the industry.  
PRP was established with the common vision of our founding partners: provide clients exceptional service with the highest standard in project management and client relations. It is the commitment to our vision that allows PRP Architects to provide our clients the level of service they deserve. We take great pride in our collective work accomplished and relationships built during our careers.  We know that each project serves not only the client's needs, but the needs of those around the project as well. We strive to accomplish this by assembling the best team of architects, designers, and engineers possible to breathe life into your ideas.
As a full service architecture firm, PRP Architects seeks to balance the potential of architecture to shape the user experience with the physical reality of building. Through listening and collaboration, with all parties, we work to reach an optimum balance between the building side and the occupant side of architecture.  Our goal at PRP is to constantly contribute to making our city and region a better place through the way our projects maximize a positive impact on people's lives. We believe architecture should stylistically be designed to be of its time.  Our architecture aims to balance complex systems and technology with designs that are empathetic to the user experience.
PRP Architects can help you decide on the best use of your space. We specialize in architectural design. Lexington is home to a range of fascinating architectural design and planning wonders. PRP Architects are considered to be amongst the best in the area.  We believe architectural design and planning can evolve with its community.  We advise clients on architectural designs and planning, regulatory compliance, as well as aesthetics and functional aspects for exterior facades. We always aim for creativity and excellence in design.