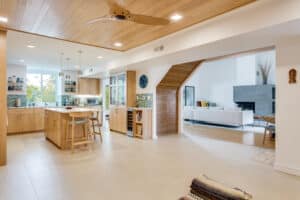 When it comes to custom residential architecture, look no further than PRP Architects in Lexington, Kentucky.  Celebrating our 30th anniversary, PRP Architects offers outstanding design balanced with exceptional client service.  PRP Architects is a full service firm specializing in custom residential architecture.  Our projects are extremely diverse in terms of type and scale.  We embrace diversity in design as one of our core strengths and we've organized PRP around the specific needs of our many great clients. We are driven by a passion to improve people's lives through architecture.  At PRP, we are proud that many of our architectural landmarks, connect the past to today, and breathe new life into our city with innovative design.
Designing a home is not just about "building a home."  It's about setting a mood, evoking a state of mind and expressing a lifestyle.  At PRP Architects, we believe that the most beautiful homes are those that reflect the spirit of their owners.  We work in partnership with our clients to understand their needs.  Then, using our knowledge and experience, we develop creative solutions that bring those ideas to fruition.
PRP Architects is a regionally recognized firm committed to excellence in architecture.  We take great pride in our innovative and timeless designs, flawless attention to quality construction and the unfailing pursuit of absolute customer satisfaction. We know that each home needs to be unique and exquisite, tailored to detail with a reflection of the client's personality, tastes and lifestyle needs.
Your home is your first line of defense against whatever might exist beyond those walls.  At PRP Architects, it is our job to ensure that your home provides a supportive environment, delivering comfort, security and quality of life. We would love to share how we can enhance the quality of life for all those who dwell under your roof. 
From renovations and home additions to new construction, each PRP project is designed and built to suit individual needs and preferences.  Our collaborative, turnkey approach will guide you every step of the way, from design to completion.  The relationships we create and nurture with our clients are crucial to our success at PRP.  We take great pride in our diverse clientele and in how it has enabled us to become experts in custom residential design around a wide range of lifestyles, budgets, desires and needs. Whether we're working with you to design your custom home from the ground up or renovating your existing home to better suit your dynamic lifestyle, we will spend the time to make sure that your vision is heard, understood and executed. By working side by side with you, PRP Architects can make creative use of your unique needs and budget requirements to design the home of your dreams
Integrity. Excellence. Passion. Three words that define PRP Architects.  PRP is a locally owned Lexington architecture firm whose core values include expertise, honesty, and a can-do attitude. With over 30 years' experience, our passion for custom residential architecture has gained us the reputation as one of the most respected firms in the region.  Working with clients every step of the way, PRP listens.  
We guide our clients along a unique path to create their vision.  As problem solvers, we listen to our clients' needs and bring their vision to life.  To learn more about PRP Architects, located in Lexington, Kentucky, call us at (859) 268-1720.