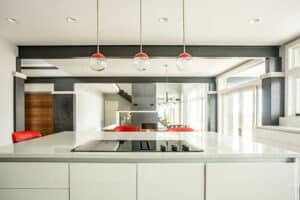 Architects are defined by the style of architecture they create and it is evident in their work. When it comes to modern architecture, one of the leading architectural firms in Lexington, Kentucky is PRP Architects | POHL ROSA POHL, now celebrating their 30th anniversary. PRP Architects specializes in modern architecture.  We are passionate for all types of projects – from the smallest home to the largest commercial project.  We design a space to its best form for every client.  Since inception, PRP Architects has been committed to providing exemplary service to our clients and we've established a reputation for excellence in modern architectural design.  
For thirty years, PRP Architects has been recognized for our innovative design. We draw inspiration from a wide variety of sources for our design. We believe in innovation. We value creativity and believe that architecture is essential to our clients' state of living. That is why it is imperative to imagine structure, interior spaces and exterior spaces together.  We believe in design that connects people with mindful and sustainable consideration of each material and process.  PRP Architects knows the key to any successful project is to listen. It enables us to respond to each client's unique vision.  We are a team of professionals founded on creativity, sustainability, innovation and flexibility. 
PRP Architects | POHL ROSA POHL provides an array of services: 
We stress personalized and quality service with each client.

We provide our clients with the level of expertise vital to maintaining excellence on each project.

We work to ensure that project schedules and budgets are met.  

We possess the qualities and creativity to conceive a design idea and bring that idea to maturity and fruition.

We are committed to the concept of green architecture and sustainable design.
Whether it's a commercial space in Lexington for your business or your custom dream home, PRP Architects will bring your vision to life.  We encourage you to review our gallery on our website to see what over 30 years of experience has created.  PRP is an energetic and engaged architecture practice that has a distinctly modern focus.  Our work is progressive, experience-centered, dynamic and bold.  Our mission is to improve the quality of life for people through thoughtful, meaningful and vibrant architecture.  Design is our passion and we strive to make every project unique.  We strive to exceed expectations and develop long-term relationships where our clients hire us time and time again.  We're dedicated to exceeding client expectations.  
At PRP Architects, we love to create.  We love the process.  We combine tested strategies with innovative design solutions.  We are a tightly woven team that is devoted to the evolution of contemporary designs from concept to execution. Each project at PRP Architects is carefully designed to meet the client's needs.  With a viewpoint focused on the future, PRP is the right modern architectural firm to choose.  Located in Lexington, Kentucky, PRP is the place cutting edge meets common sense.  To learn more about PRP Architects, call us at (859) 268-1720.