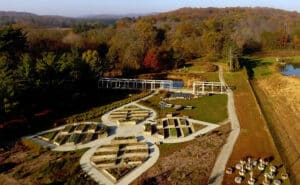 PRP Architects recognizes that every client interacts differently. We tailor our project management approach accordingly.  When it comes to project management, PRP has helped solve our customer's toughest problems with speed, precision and impact. Our project management experience includes projects large and small.  Our expertise spans a variety of delivery approaches.  Regardless of your challenge, PRP in Lexington, Kentucky is ready to be your partner and build something that will work for a long time.  By focusing on setting up clear project management at the beginning of design, our goal at PRP Architects is to make the design-build process an enjoyable journey that engages everyone.  Our definition of a successful project is when the client sees their values reflected in the end product, and that is what differentiates PRP Architects from other design-build firms.
Over our thirty years, PRP Architects | POHL ROSA POHL has developed an effective project management approach.  We use our project management expertise to identify potential trouble spots before they develop into problems and to initiate preventive action through strategic planning.  We watch over all aspects of a project from design review through schedule and budget updates and inspection during construction. We firmly believe that successful construction project management demands a proactive approach, managed by professionals who have the experience, skills and technical support each project requires. 
PRP is committed to understanding the specific needs, goals and desires of each individual client and project.  At PRP Architects, we'll sit down with you to establish your vision for your project well before completing the design concepts for your approval.  Upon gaining this special understanding, we'll finalize a project management plan that will meet or exceed all expectations.  We will then provide you with your dream design.  We take the vision of each client and apply the most innovative design possible to make that vision a reality.  We believe preconceived ideas limit creativity.  We work closely with our clients in evaluating their priorities and present options that go beyond the bounds of traditional thinking.  
Client satisfaction will always be our foremost measure of success at PRP Architects.  We immerse ourselves in each client's goals and desires to make their vision a reality.  The result is an experience that feels meant to be.  We challenge the status quo and consider unique solutions for all our clients.  Our designs are inspiring.  We work holding our client's interests ahead of our own.  Good architecture requires dedication and persistence.
PRP Architects | POHL ROSA POHL provides complete project management to every project we undertake.  Since our beginning in 1992, we have proven through our long list of satisfied clients that PRP is dedicated to provide architectural services that meet and exceed our clients' needs.  With over thirty years of architectural design history and a perspective focused on the future, PRP is the right firm to choose.  As a leading architectural firm, PRP Architects in Lexington, Kentucky is the place where cutting edge meets common sense.  To learn more about environmental design architecture and PRP Architects, call us at (859) 268-1720.