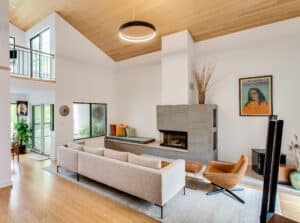 PRP Architects in Lexington, Kentucky leads the way in residential architecture.  After the retirement of his two original partners, Graham Pohl and Krisia Rosa, Clive Pohl is now the principal architect at POHL ROSA POHL | PRP Architects.  Thirty years of experience has taught us that good design improves lives.  PRP Architects was established with the common vision of our founding partners, provide clients exceptional service with the highest standard in project management and client relations. It is the commitment to their vision that allows PRP to provide their clients the level of service they deserve.  
When you want the best in residential architecture, PRP Architects is the firm to use.  PRP incorporates the "must have" of our clients into award winning designs.  Our creativity is second to none.  We know how overwhelming residential architecture and the custom home design process can be.  At PRP, we can help customize a residential architecture plan to suit your lifestyle and needs.  
PRP Architects cares about people and serving others through our expertise. We care about what's next through studying current and future trends. Our values, culture and time are all centered around relationships with people. That is truly what makes us unique – at the center of what we do, is our passion for others. Our client relationships are long-lasting because we strive to bring to life our client's values through the realization of their goals and visions. We take great pride in our diverse clientele, and in how it has enabled us to become experts in customizing residential architecture designs around a wide range of lifestyles, budgets, desires and needs.  Whether we're working with you to design your custom home from the ground up or renovating your existing home to better suit your lifestyle, we'll spend the time to make sure that your vision is heard, understood and executed. 
PRP has a pragmatic approach to providing residential architecture solutions for our clients.  Our projects are always delivered as a synthesis of vision, client requirements, site and budget.  Our creativity, designs and quality services simply provide efficient and responsive solutions which consistently satisfy and exceed the needs and expectations of our clients.
Your home is a reflection of your personality, character and charm. It's your legacy.  Planning your next residential project or making additions to your existing home?  POHL ROSA POHL | PRP Architects is with you each step of the way, providing care, expertise and attention to every detail.  By choosing PRP, you'll be sure that everything is done right, from the start!  PRP Architects is one of the most recognized architectural firms in the region.  Our reputation has been built on performance, trust and creativity.  We love what we do and are constantly looking for new sources of inspiration.  PRP projects are extremely diverse.    Our firm is structured to address the specific needs of each client.
With over thirty years of architectural design history and a viewpoint focused on the future, PRP Architects is the right firm to choose.  As a leading architectural firm, PRP Architects in Lexington, Kentucky is the place where cutting edge meets common sense.  To learn more about environmental design architecture and PRP Architects, call us at (859) 268-1720.