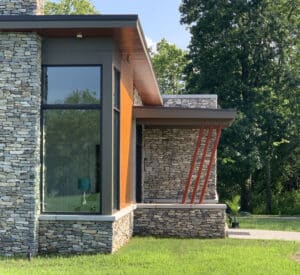 Building a new home or renovating your current one can be exciting but also overwhelming. With special expertise and years of experience in residential design, PRP Architects can guide you through the selections and decisions to ensure a smooth, efficient process and a beautiful result.
At PRP Architects in Lexington, Kentucky, we are responsive to client goals and objectives in a relaxed, personal setting.  The client's vision is implemented into a plan with architectural style and details guided by our expertise in residential design. PRP strives to achieve functional, well-proportioned designs that allow for graceful modern living.  Designing and building spaces that go beyond homeowners' expectations is incredibly satisfying. But what we're most proud of building are lasting relationships with clients who put their trust in us.
Since 1992, PRP Architects has specialized in residential design of new homes, home additions and home remodeling.  We tailor our services to each client's individual needs, from conception to completion.  PRP Architects | POHL ROSA POHL is committed to delivering an unparalleled experience for our clients.  Our open communication, experience, creativity and reputation delivers successful residential designs.  We incorporate the best materials, high-end finishes and personalized design details that exceed the expectations of our clients.  We take great pride in building strong relationships with each client.
PRP Architects is there every step of the way for our clients:  
A one of a kind design for your home or renovation project that takes care of all of the details

Understanding your priorities, the way you live, your style and your budget

A design experience that considers every detail and curates your spaces uniquely to you and your home

High end renovation experience with access to our expert contractors, carpenters, painters and craftspeople

Custom sourcing, ordering and quality control

With 30 years of residential design experience, PRP Architects offers a balanced approach to provide you with the best architectural solutions to facilitate your goals.  
PRP Architects approaches each project with a strong collaboration with the client and a careful study of the location.  We approach the design process with creativity and thoughtfulness to create solutions that excite and inspire.  We embrace diversity in design as one of our core strengths and we've organized PRP around the specific needs of our many great clients. PRP specializes in residential design, additions to residences and interior renovations, as well as commercial new construction.  Each project at PRP is an opportunity to create work that is thoughtful, distinctive and lasting.
As a leading architectural firm in Lexington, Kentucky,  PRP Architects | POHL ROSA POHL is now celebrating our 30th anniversary. Clive Pohl is now the principal architect at POHL ROSA POHL, after the retirement of his two original partners, Graham Pohl with whom he started the firm, and Krisia Rosa, who joined them in 2000.  PRP Architects was established with the common vision of our founding partners: provide clients exceptional service.  Providing our clients the level of service they deserve is our constant goal at PRP. With a viewpoint focused on the future, PRP is the right residential design architectural firm to choose.  At PRP, cutting edge meets common sense.  
To learn more about PRP Architects, call us at (859) 268-1720.