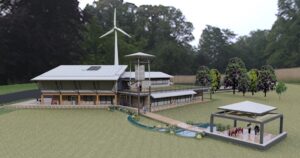 While we are proud of our portfolio of LEED projects, our approach to sustainability at PRP Architects is less about checking off boxes and more about integrating basic, time-tested principles into the core design of our projects. From the orientation of a building to features such as deep overhangs and abundant natural light, PRP Architects in Lexington, Kentucky has developed a set of fundamental guidelines that we can apply to projects of all types and scales.
30 years of experience has taught PRP Architects that people drive design and that good design improves lives. We listen, understand and respond with creative solutions, teaming with our clients to create homes and office buildings that inspire and sustain.  Respect for the environment has informed our work since the firm's inception in 1992. PRP incorporates sustainable design practices into all of our projects.  Sustainability is a core value at PRP.  We believe in educating our clients about sustainable materials, energy conservation systems and ecological implications surrounding the built environment.  PRP is committed to incorporating environmentally responsible materials and systems into building designs and construction projects. 
At PRP Architects, we are always engaged in continuing education from leaders throughout the industry. We continually research the latest materials and methods, looking for innovation and improved ways of doing things. Our goal is always to use sustainable design in ways that are cost-effective and beneficial for our clients. That's why we are committed to finding ways to help our clients incorporate sustainable design into their projects in ways that will work for them.
Sustainable design thinking begins with an understanding that a project's components are interdependent systems. The separate disciplines that go into the design and construction of a custom home must work together to contribute to the success of the entire project. And in a larger sense, the project's success contributes in some way to the success of ecological, social, and economic systems. Sustainable design represents a responsibility to the client, their families, the community, and to future generations. With a combination of planning and design experience, PRP Architects has the ability to evaluate, comprehend and skillfully design each project as one of a kind.  Our spaces encourage community, whether with neighbors at home or creative collaboration at work.
PRP Architects creates architecture that meets our clients' needs, while being environmentally responsible and affordable.  We take an individual approach to each project, thoroughly analyzing the project requirements, site orientation, design alternatives and material selection.  PRP is committed to working through solutions that best serve the needs of our clients. In this way, sustainable design becomes more of a mindset rather than any system of components. At PRP, we're inspired by the vision of our clients.  From our experience spanning three decades, the sooner we get together, the better.  We listen. We hear. We respond. Our process at PRP is designed to make the journey a pleasure and your custom architectural design a dream come true.  
To learn more about PRP Architects, located in Lexington, Kentucky, call us at (859) 268-1720.