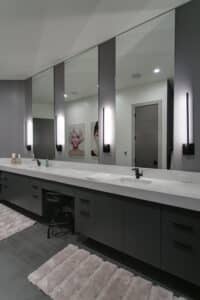 Sustainable residential design seeks to reduce negative impacts on the environment and the health and comfort of the residents. Throughout our history, PRP Architects in Lexington, Kentucky has taken a leadership role in promoting energy efficiency and sustainability, setting new benchmarks for what defines a great project. From our earliest days, the firm established energy performance and sustainability as core values. We embraced LEED® early. Our team members possess that critical balance between field experience, formal education, and technical knowledge that is so crucial in today's rapidly changing environment, thus ensuring the ability to provide client satisfaction on every sustainable design project.
Our clients at PRP Architects set the tone for the level of green building standards in which they want to invest.  We recognize that what makes sense for our clients and our environment is simply the right thing to do.  The basic objectives of sustainability are to reduce consumption of non-renewable resources, minimize waste and create a healthy environment.  Buildings today can be designed to use less energy, consume less water and interact with their natural environment. They can help recycle, incorporate renewable energies and support a healthier indoor environment, all the while lessening their impact on the environment over the life of the structure.    
PRP Architects believes in educating our clients about sustainable materials, energy conservation systems and ecological implications surrounding the built environment.  We are committed to incorporating environmentally responsible materials and systems into building designs and construction projects. 
Our PRP approach to sustainability is less about checking off boxes and more about integrating basic, time-tested principles into the core design of our projects. From the orientation of a building to features such as deep overhangs and abundant natural light, we have developed a set of fundamental guidelines that we can apply to projects of all types and scales.
Basic principles of sustainable residential design: 
Optimize site potential

Minimize non-renewable energy consumption

Use environmentally preferable products

Protect and conserve water

Enhance indoor environmental quality

Optimize operational and maintenance practices
Sustainable homes have the least possible negative impact on our environment. This means energy efficiency, avoiding environmental toxins and using materials and resources in a responsible manner.  Sustainable residential design encourages decisions at each phase of the design process that will reduce negative impacts on the environment and the health of the occupants, without compromising the bottom line. Sustainable homes have many features and benefits that aren't available in traditional homes. A lot goes into a sustainable home.  PRP Architects understands that it can be difficult to understand the value of these details.  
When it comes to sustainable residential design, look no further than PRP Architects.  Since our inception, PRP Architects has always aimed to ignite a change in the craft of architecture through environmental stewardship.  With a unique combination of general planning and design experience, we have the ability to evaluate, comprehend and skillfully design each project as one of a kind. 
To learn more about PRP Architects, located in Lexington, Kentucky, call us at (859) 268-1720.