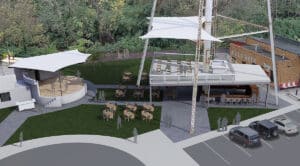 Architectural conceptual design takes place in the beginning stages of the design phase. Its purpose is to outline the form and function of the structure and incorporate the client's needs into the design.  Conceptual design shows the client what their project can look like when it's completed.  PRP Architects, based in Lexington, Kentucky, will develop a design that goes through multiple iterations. Architectural conceptual design guides the project and is the project's core identity. It is the first part of the project and precedes all other activities in the design process.  It's only when the design concept has been developed and finalized that the project can begin in earnest.  It is not to say that the design remains constant over the entire duration of the project. As the structure's design changes, the concept can also evolve.  
Architectural conceptual designs can originate from several different sources and can result in multiple variations and outcomes. Central themes, critical issues and other factors affect the development of the concept. The design process begins with an understanding of the client's objectives, lifestyle and unique expectations. The client's vision is implemented into a plan with architectural style and details guided by PRP's expertise in conceptual design. Both hand drawn concept sketches and computer generated drawings are used to communicate and demonstrate the plan during the design phase. 
Using state-of-the-art software, three-dimensional drawings are also developed to allow the client to visualize key aspects of the plan throughout the entire project.  PRP Architects has a successful track record of transforming the client's vision into a timeless and elegant residence in a wide variety of architectural styles.  PRP Architects was founded by brothers Clive and Graham Pohl with architect Krisia Rosa.  They envisioned an architectural firm based on teamwork, exceptional client service and innovative, quality design. Since Graham Pohl and Krisia Rosa's retirement and the additions of Justin Ostrander and Romana Kalova, PRP Architects has continued to build a solid foundation of design excellence, community service and environmental stewardship.  
Our team of architects and designers at PRP Architects works with clients across the region.  We believe that architecture has the power to profoundly impact the quality of our lives.  Our vision is to make the lives of those we touch that much better.  We thrive on teamwork.  PRP believes that a diversity of ideas yields projects that are innovative and responsive.  We take great pride in our ability to balance client demands, schedules and budgets with outstanding architectural conceptual designs.  We provide a complete approach to architectural conceptual design. 
PRP Architects can bring your projects to life with innovation and creative vision while never losing sight of the budget, goals and the end-user experience desired.  PRP knows that one of the most vital aspects of any project is communication.  We can manage the entire design and build process from start to finish. Whether you want to improve your existing property or build a new property, PRP Architects in Lexington, Kentucky has the skill and expertise to conceptually design exciting and effective solutions that will add value to your company.  You'll be pleased with our exceptional ability to work cost-effectively, within budget guidelines, and in a timely, efficient manner.