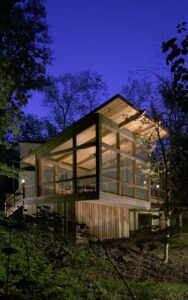 A leading architectural firm in Lexington, Kentucky is PRP Architects | POHL ROSA POHL, now celebrating their 30th anniversary. After the retirement of his two original partners, Graham Pohl with whom he started the firm, and Krisia Rosa, who joined them in 2000, Clive Pohl is now the principal architect at POHL ROSA POHL.  
Thirty years of experience has taught us that good design improves lives.  PRP Architects was established with the common vision of our founding partners; provide clients exceptional service with the highest standard in project management and client relations. It is the commitment to their vision that allows PRP to provide their clients the level of service they deserve.  
At PRP Architects, we listen, understand and always respond with creative solutions.  PRP designs everything from commercial buildings and beautiful homes to notable public buildings and landmarks.  We approach each new project with our client's best interests in mind through a combination of attention to detail, creative thinking and a thorough understanding of architecture.  Our designs combine functionality and innovation, with style ranging from classical to contemporary.  At PRP, we believe amazing things happen in architecture when open and ongoing communication takes place.  And the best ideas come only after listening first. 
Since 1992, POHL ROSA POHL has provided design and service excellence for the benefit of our clients, our people, our community and our environment.  PRP has been built around long-term relationships with our clients. With a focus on being responsive and providing quality design, our clients form partnerships with us to drive better outcomes.  We create functional, enjoyable, meaningful spaces that meet the complex needs of our clients and communities we serve.  PRP focuses on enhancing and contributing to our clients' success through a culture of mutual respect, collaboration and trust. Our collaborative, people-focused design approach, integrated with cutting-edge design technology, ensures that our designs express our clients' unique story in a lasting and meaningful way.
Working with PRP Architects is a great way to get the process of building or renovating a structure moving forward.  PRP has high standards for dealing with the small details of projects. Completing jobs in a timely manner and within proscribed budgets is also important to us, and we want clients to be satisfied with our efforts.  PRP takes great pride in being enriched in the Lexington community. Through our localized culture, we engage clients in a thoughtful way.
Being the best … not the biggest is our continuous goal at PRP Architects.  We provide high-value results through excellence in form and function, coupled with outstanding service.  We put our clients first.  It's our goal to go beyond client expectations.  Our reputation depends on it.  We are trusted partners with each client throughout the design process of every project.  Our clients depend on our day-to-day leadership involvement to ensure each project stays on course and on budget.
With over thirty years of architectural design history and a viewpoint focused on the future, PRP Architects is the right firm to choose.  As a leading architectural firm, PRP Architects in Lexington, Kentucky is where cutting edge meets common sense.  To learn more about environmental design architecture and PRP Architects, call us at (859) 268-1720.