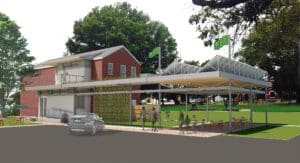 Seeking sustainable architecture firms in Lexington, Kentucky?  Look no further than PRP Architects.  PRP utilizes the principles of sustainable design to reduce the carbon footprint and to minimize the environmental impact associated with our projects.  PRP designs projects using LEED® design principles and actively promotes renewable energy.  PRP optimizes energy efficiency and environmental performance with sustainable design.
Our work at PRP Architects has a significant impact on the well-being of our clients.  We make it our responsibility to strive for high performance in our design.  Our goal is to meet the highest standards in terms of resource efficiency, limiting emissions, and enhancing human health.  Throughout all stages of the design process, PRP Architects takes a holistic approach to integrating sustainable strategies into any design solution.  We understand from research and past applications that the implementation of sustainable design strategies creates healthier working and living environments which contribute to higher productivity and improved health and comfort.
Sustainable architecture is reflected in a building's materials, construction methods, resource use and design in general.  While it has to be functional and aesthetically superior, the space has to be constructed with the mind-set of achieving long-term energy and resource efficiency.  As we become increasingly aware of the importance of environmental issues, there is one area of our lives in which sustainability is now more crucial than ever.  And that's the construction of buildings in which we live.  Sustainable design promotes the health of the building's occupants at the same time as reducing the negative effects of the construction process on the environment.  An eco-friendly approach to modern-day building encompasses every aspect of the planning and construction process, not only the choice of building materials, but also the design and implementation of heating, cooling, plumbing, waste and ventilation systems and the integration of the built environment into the natural landscape.
For thirty years, PRP Architects has always aimed to ignite change in the craft of architecture through environmental stewardship.  With a unique combination of general planning and design experience, we have the ability to evaluate, comprehend and skillfully design each project as one of a kind.  Our spaces encourage community – whether with neighbors at home or creative collaboration at work inspired by the built environment around you.
Sustainable design strategies are integrated into PRP projects in the most effective and efficient manner possible.  Budgets and sustainability are always major considerations and design challenges.  By closely integrating the site and building design, and the overall 'fit' of the project within the urban environment, we can deliver a design solution that will achieve its goals while responding to the budget paramters.
PRP Architects creates spaces that are inspiring, healthy and resilient.  At PRP, we're inspired by the vision of our clients.  We listen to our clients' needs and bring their vision to life.  It is a well-known and proven fact at PRP that architecture is able to shape our perspective and shift the cultural norm.
To learn more about PRP Architects, located in Lexington, Kentucky, call us at (859) 268-1720.