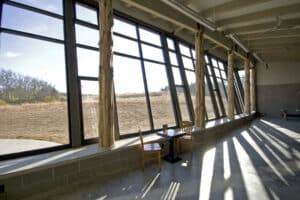 PRP Architects is an award-winning eco-friendly architectural firm. PRP strives toward design integrity, client satisfaction and ecologically responsible building design. Our projects are charged with eco-friendly architectural solutions.  Reach out to us today to discuss your next green architecture project.  At PRP, we look for lasting solutions transcending time to make the most out of every client dollar.  Client feedback is integral from project inception to completion. Our commitment to sustainability in architecture works to replace polluting habits with retroactive beauty.  PRP continually strives to create something that positively affects the communities in which we serve now and for generations to come.
An eco-friendly architectural firm, PRP Architects in Lexington, Kentucky works closely with all of our clients to produce architectural plans that transition to reality.  From the design to organization of the plans and the accuracy of the details, we take pride in what we do.  During our 30 years in business, PRP has learned the importance of producing quality drawings that not only showcase a great design, but that have been thoroughly detailed to ensure the finished product is as close to the concept as can be. Our constant goal is to provide an enjoyable experience throughout the planning and design phase of their project. 
Sustainable, eco-friendly architecture represents a responsibility to our clients, their families, the communities in which we serve and to future generations.  PRP Architects have the professional strengths to integrate the myriad of concepts brought to a custom home design by the client, the builder, the landscape architect and interior designer. Despite the trends and transitions that continually influence architecture, a simple set of core values has helped bring PRP Architects to where we are today.  
Since our inception, PRP Architects have always aimed to ignite a change in the craft of architecture through environmental stewardship.  With a unique combination of general planning and design experience, we have the ability to evaluate, comprehend and skillfully design each project as one of a kind. Our spaces encourage community – whether with neighbors at home or creative collaboration at work inspired by the built environment around you.
PRP Architects welcomes eco-friendly projects of all scales.  We specialize in authentic, context-driven solutions informed by the natural environment, balancing bold expression and creative restraint.  We meet each design challenge with a fresh outlook, creating innovative solutions that respond to the individual needs of our clients and the unique opportunities of each project. Our collaborative, transparent design process guides our choices and recommendations during programming, concept development, product selection, detailing and material specification. 
As an eco-friendly architectural firm, PRP Architects strives to build more efficiently by minimizing the footprint of the development site.  Eco-friendly architecture uses local and sustainable materials and incorporates more efficient mechanical systems, ultimately to minimize a building's overall impact on the environment.  This has the potential to change the way society views the environment.  It is a well-known and proven fact at PRP that architecture is able to shape our perspective and shift the cultural norm. At PRP, we're inspired by the vision of our clients.  We listen to our clients' needs and bring their vision to life.  To learn more about PRP Architects, located in Lexington, KY, call us at (859) 268-1720.